| | | |
| --- | --- | --- |
| | Expressed energy | |
Actual Ton
Duration
1 day
Start
12.05.2021 06:00
End
13.05.2021 06:00
Cycle position
13/13
Global cycle
Duration
13 days
Start
30.04.2021 06:00
End
13.05.2021 06:00
Oxlajuj, Ton 13, Number 13
(Ton, masculine principle, objective, intention)
Day 7 - Action

Expiration / Descend

Completion

Open to new consciousness
Going from one step to the next higher step.
Thirteen symbolizes the 'Mayan' Zero. In the Mayan culture, Zero is a potential. It represents the 'emptiness' but in the sense of the Whole. It is empty since no choice has yet been made but all possibilities are accessible. All possibilities are present in Zero. This is the beginning and the end of the cycle. The experience of the cycle fills Thirteen with a new potential.
This new potential allows you to change direction or try again with a new perspective.

Unexpected things may happen that can dramatically change your life. Open yourself up to these changes and everything will be alright. Be open and flexible. Propose solutions, go beyond, endure, establish a new cycle, it is the magic flight!

This transcendence goes beyond death, life, creation, or destruction. The one who realizes the transcendental view of reality finds Joy and Love in everything that exists.

Symbolizes: Open system, occult powers, integral vision, unexpected change, transcendental experience, the return to the Source.

Read more



Actual Kin
Duration
1 day
Start
12.05.2021 06:00
End
13.05.2021 06:00
Cycle position
4/20
Global cycle
Duration
20 days
Start
09.05.2021 06:00
End
29.05.2021 06:00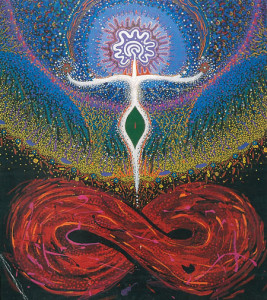 Human Seed, Artist Mathew Brass
"Time is a Garden"
Kat, Kan, Seed, the fire
(Kin, feminine principle, character, sentiment)
Attraction, gravitation, network, trap, imprisonment, influence

Day of the payment of debts

Element: Earth
Color: Yellow
Direction: South
Animal: Spider
Body part: Ribs
Opposite elements: Cooperation / Oppression
Connection, networking, communication, communion, gravity, memory, clarity, development, experience, abundance, offering, fecundity, emotion, spirit, sincerity, organization, order, intelligence

Control, manipulation, egoism, trap, suffer
Kat is the energy that brings things together. Love and Gravity speak the same language.
It can be seen as well as a prison, or as a cohesion force that allows cooperation that brings the support for development.

Kat is the link that connects sacred places together. The shamanic network that links our world to upper and lower dimensions.

Kat brings new important elements that will allow ones project to build further. It is the help coming from outside that is needed to grow further, like the Water brought by the gardener to the drying plant.

Read more